Salary Standardization Law of 2019 (SSL 5) aims to increase the salary of government employees. The salary schedules of government workers will increase in four tranches every January to start from 2020 until 2023.
A total of P34.2 Billion has been allocated under the 2020 National Budget for the implementation of the first tranche of the pay hike.
SSL 5 Table
The modified Salary Schedule for Civilian Personnel in four tranches. Refer to the table below.
First Tranche
Second Tranche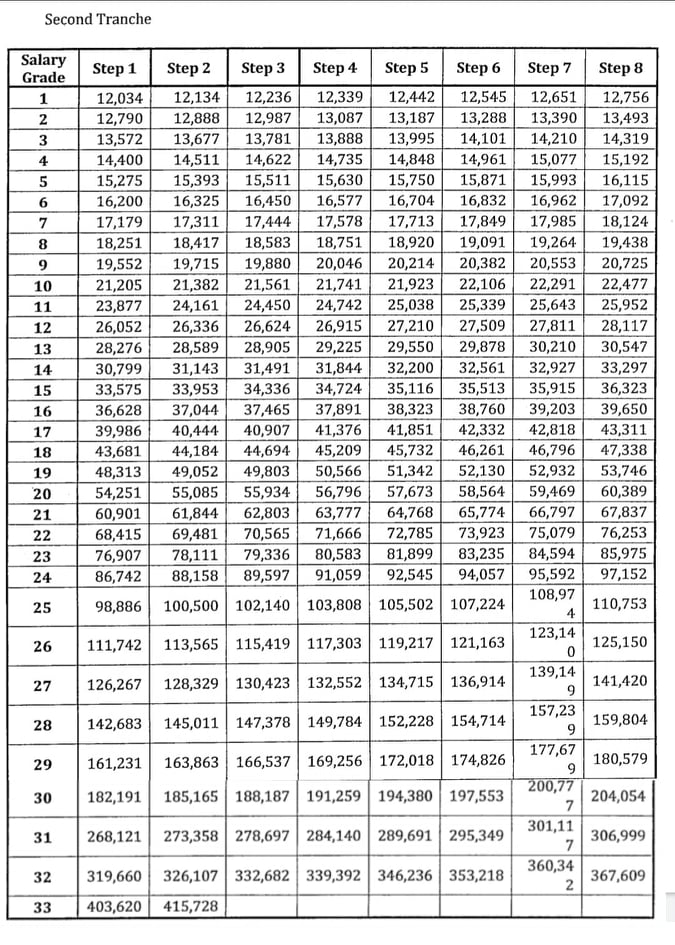 Third Tranche
Fourth Tranche
Coverage of SSL 5
The increase in salary for the SSL 5 will apply to all civilian government personnel whether regular, contractual, casual or appointed, full time or part-time.
On the other hand, Military and uniformed personnel are not part of the benefit. Other Government-owned and controlled corporations, as well as individuals whose services are engaged through job orders, contracts of service, consultancy or service contracts with no employer-employee relationship, are excluded.
Government employees with Salary Grades 11 to 13 will have an increase from 24% to 30%. It will also increase the minimum basic salary from 11,068 to 13,000. Salary grades 23 to 33 has the smallest increase of 8%.
Mid-year Bonus
Apart from the increase, government workers will also receive a mid-year bonus equivalent to a one-month basic salary every 15th of May of the given year. The mid-year bonus would be granted to workers who have rendered at least 4 months of satisfactory service. Apart from that, an employee should still at the service to be qualified.
SSL 5 Update
President Duterte signs this bill into law this January 8, Wednesday. After the house of representatives gave the green light to the bill with a vote of 187-5-0. House Bill No. 5712 or the Salary Standardization Law(SSL) of 2019 was approved by lawmakers on third and final reading.
We will be looking forward to this increase. What can you say about the new proposed SSL V?