Are you keen on working in the government? But before becoming a public servant you need to have a Civil Service Eligibility. Do you know that you can acquire eligibility without taking the Career Service Examination?
Civil Service Commission is granting 11 different eligibility under special laws and issuances. Read who is exempted to take the Civil Service Exam below.
Civil Service Eligibility under Special laws and CSC issuances
1.Board and Bar Passers
Republic Act RA 1080
Students who passed the Board and Bar exam can skip the Test.
What are the Board and Bar Exam?
It is a series of tests taken by graduates to be able to practice their chosen field of expertise. Courses like Accountancy, Engineering, Medicine, Nursing, Criminology and many more require Board Exam before practice.
Philippine Regulation Commission administers the board exam while the Supreme Court conducts the Bar.
See the attached picture for the complete list.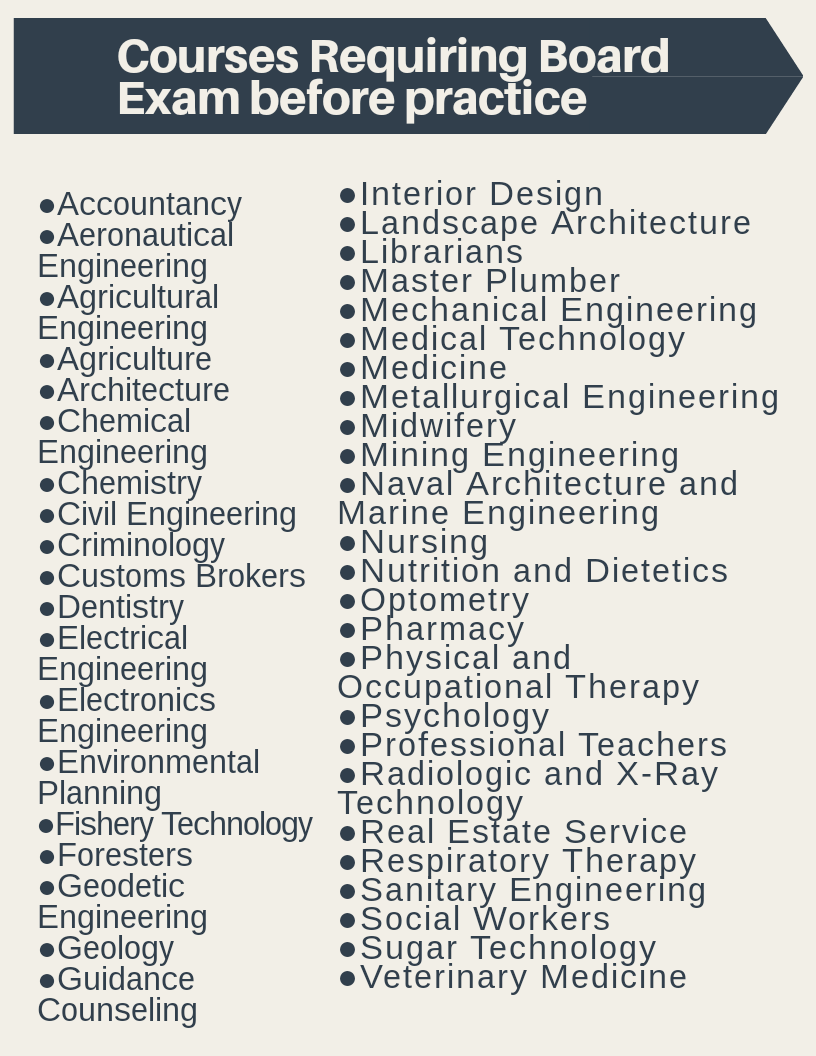 2. Barangay Official Eligibility
Republic Act RA 7160
Elective and Appointed Barangay Officials are qualified for the grant of eligibility.
Elective Barangay officials include Barangay Captain, Regular Sangguniang Barangay Members, and Sangguniang Kabataan Chairman.
Appointed Barangay Officials include Barangay Treasurers and Barangay Secretaries. Duly elected Barangay Captain appointed them.
3. Barangay Nutrition Scholar Eligibility
Presidential Decree PD 1569
Barangay based volunteer worker who renders least two (2) years of continuous and satisfactory nutrition services and other related activities It includes community health, backyard food production, environmental sanitation, culture, mental feeding, and family planning to the barangay.
4. Honor Graduate Eligibility
Presidential Decree PD 907
Your hard work in school still pays off. Students who graduated summa cum laude, magna cum laude, or cum laude, in their baccalaureate degree, regardless of the number of years of completion can skip the exam.
5. Barangay Health Worker Eligibility
Republic Act RA 7883
Barangay Health Worker who finished two years of education in college leading to a degree and who are actively and satisfactorily serve the community for at least 5 years are included in the lists.
6. Sanggunian Member Eligibility
Republic Act RA 10156
The following Sanggunian Members are granted eligibility:
a. vice mayor, as presiding officer for the Sangguniang Bayan or Sangguniang Panlungsod;
b. vice governor, as presiding officer for the Sangguniang Panlalawigan; and
c. regular Sanggunian Members of the Sangguniang Bayan, Sangguniang Panlungsod and Sangguniang Panlalawigan.
7. Foreign School Honor Graduate Eligibility
CSC Resolution 1302714
Filipino Citizens who graduated summa cum laude, magna cum laude, cum laude from a reputable foreign school verified by the Department of Foreign Affairs also granted eligibility.
As long as no criminal record and not found guilty of offenses relative to, or in connection with, the conduct of civil service.
8. Scientific and technological Specialist Eligibility
Presidential Decree PD 997
Students who graduated in Natural Sciences, Mathematics, Information and Communication Technology, Environmental Science, and Food Science can be granted eligibility.
On the condition that they have either three years or more research or teaching experience, one patented invention, or completed a postgraduate degree.
9. Electronic Data Processing Specialist Eligibility
CSC Resolution 90-083
This is for passers of the proficiency test or training course conducted by the Information and Communication Technology Office.
This includes the following Courses: Systems Analysis and Design, Computer Programming, Java, MS Access and Visual Basic.
10. Skills Eligibility
CSC MC no.11 s.1996
Granted to individuals who meet the requirements of positions and qualifications which cannot be measured by a written exam.
This includes plant electrician, automotive mechanics, heavy equipment operator, laboratory technician, shrine curator, carpenter, draftsman, plumber, and others.
Completion of one year of very satisfactory actual work performance under the temporary status of appointment is a must.
11. Veterans Preference Eligibility
Executive Order 132/790
Any of the following can avail the Veterans Preferences Eligibility:
Veteran himself
Veteran's spouse
One of the Veterans children
You can also visit their website for the complete lists of civil service eligibility requirements to get your certification. Or you can go to the nearest CSC branch in your area.
Source: csc.gov.ph